MATTEO FATO | Studio visit per GENTLE AS A PORTRAIT
The artist Matteo Fato lets us enter in his studio telling us about the portrait through his works. The video was made for the GENTILE COME UN PORTRAIT project – curated by Marcello Smarrelli – conceived as part of the 50th anniversary of Elica, which starts from the presumed self-portrait of Gentile da Fabriano in the altarpiece of the Adorazione dei Magi (1423) to recompose , thanks to the mark left on the canvas by each participant, a new, metaphorical portrait, a collective image of the company.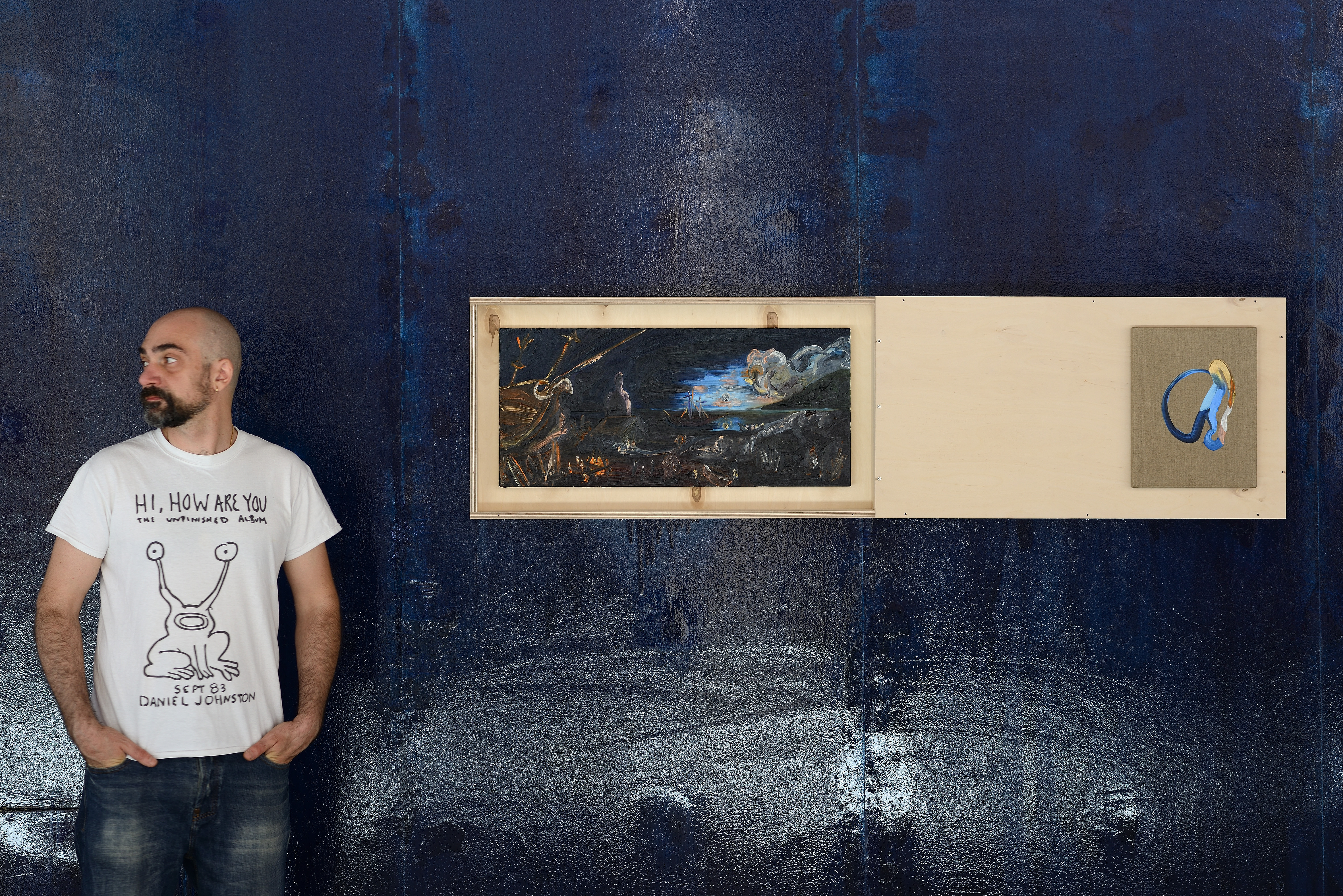 Matteo Fato, Scena notturna sul mare, a cura di Marcello Smarrelli | Centro Arti Visive - La Pescheria, Pesaro, 28/06 - 03/11/2019 | Courtesy dell'Artista & Monitor, Rome - Lisbon - Pereto (AQ) foto Michele Alberto Sereni
From Monday 21 September and for the whole week the artist Matteo Fato will be in Elica to create, together with all the people who work there, "Gentile as a portrait", curated by Marcello Smarrelli.
Matteo Fato was born in 1979 in Pescara, city where he lives and works. He has been teaching at the Academy of Fine Arts of Urbino since 2009. He partook in many exhibitions in private galleries and public museums in Italy and abroad. In 2012 he completed his residency at the Dena Foundation for Contemporary Art (Paris), with the participation in the exhibition The collection Giuliana Thomas et Setari, retour à l'intime (La maison rouge, Fondation Antoine de Galbert); in July 2017 he took part in the OPEN20 exhibition at the Mostyn Museum in Wales. He took part in numerous artists' residencies, such as: the Spinola Banna Foundation (Turin, 2008); ArtOmi, (New York); and in Norway within the Nordic Artists' Centre Dalsåsen – NKD (2015). In 2016, he partook in the 16th Art Quadrennial of Rome. In March 2018 opened a solo exhibition titled Heresy (of the) Anthology at Galleria Nazionale delle Marche (Palazzo Ducale, Urbino, Italy); in June 2019 he opened a solo show entitled Night Scene by the Sea at the Visual Arts Center – Pescheria (Pesaro). His works are included in many private and public collections in Italy and abroad.