Michelangelo Pistoletto's neons and Love Difference light up Elica and Fondazione Ermanno Casoli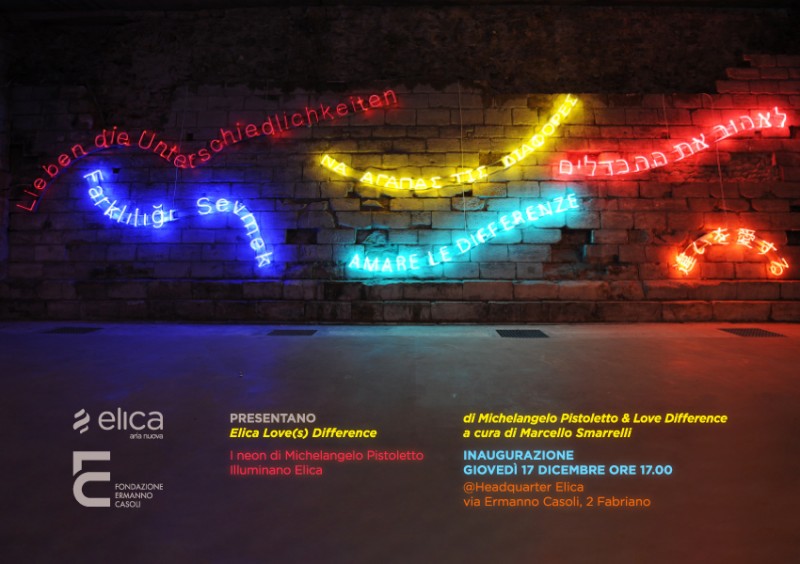 On the occasion of end-of-year festivities, Elica and Fondazione Ermanno Casoli present Elica Love(s) Difference: this project was conceived by artist Michelangelo Pistoletto and the cultural association he founded, Love Difference, and is curated by Marcello Smarrelli, FEC art director.
On Thursday, December 17th, at 5pm, the installation will open. Elica's employees and institutional representatives will participate. The neon writings composing the installation will be lighting up the Fabriano company's headquarter façade for more than one year. The neon writing will be one: "Love Difference", an invitation to respect and mutual understanding among cultures, a principle and an ideal upon which our societies should be founded. The writing will be translated into 12 languages: French, Arabic, Portuguese, Japanese, Creole, Italian, English, Spanish, Polish, Romanian, Croatian, and Hebrew.
This project strengthens and highlights the strong collaboration between Elica/Fondazione Ermanno Casoli and Michelangelo Pistoletto/Love Difference, which was successfully started on the occasion of the Breathe Difference program, an initiative cycle that took place at the company Showroom during Milan Expo 2015.