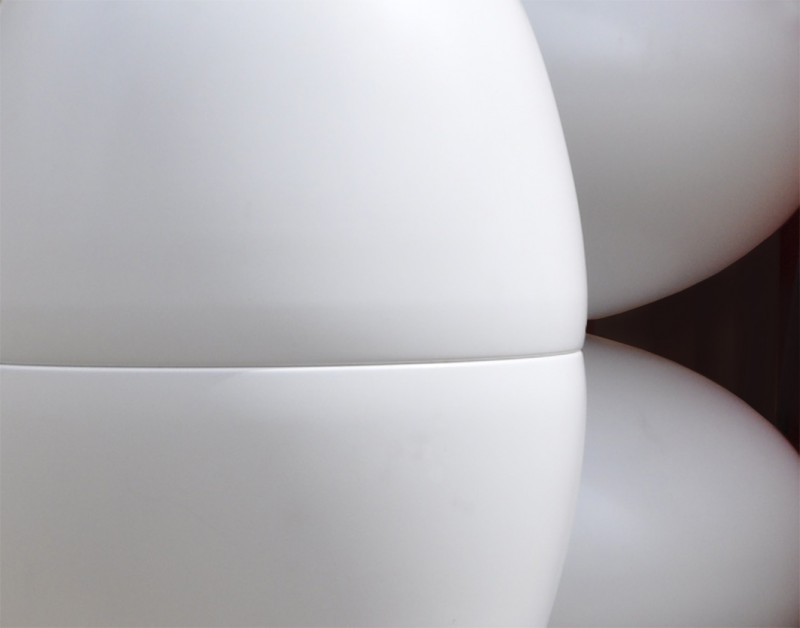 On the occasion of Milan EXPO 2015, Elica and Fondazione Ermanno Casoli presented Sillage, an Ettore Favini's project curated by Marcello Smarrelli, inside the Save The Children pavilion; the project supports education and food security initiatives carried out by Save The Children.
The term "Sillage" comes from the perfume terminology: it identifies the scent that perfumes leave around us, which is able to overcome boundaries and spread to the surrounding environment. In line with this definition, Sillage is a four-step, constantly changing work in progress, gradually transforming and becoming abstract.
The installation is composed by a series of modular sculptures, which are inspired by the famous Endless column by sculptor Costantin Brancusi, and use three important Elica products (Edith, Seashell, Audrey).
Secondly, the kitchen hood shells are overlapped to create columns and will be used to grow food plants. Thus, constant state changes will take place inside the kitchen hoods: the metal modules will be turned into "vases" that will host a new life. The artist will put some plants inside them; these will be chosen in collaboration with architect Melania Bugiani, and used as a base for food such as barley, oat, almond, fennel, and anise. These are easily farmable plants, which relate to issues dear to Save The Children, and, generally, to EXPO 2015 theme: Feed the Planet, Energy for Life.
During the third step, the plants will be turned into scents by "expert noses", which will create an essence specifically studied for Marie. As the project conclusive step, Ettore Favini will create a special cover for the above mentioned hood. A still life image, obtained by taking a picture of a composition of the plants that had been growing in the vases for the Expo six months, will be re-produced in a single colored strip that, as a colorful ribbon, will wrap the scent diffusor shell.
This version of Marie will be a limited edition for Save the Children with the new essence and will be presented during an event held in September in Milan.