TAKE PART in the #SwitchTheRules photo contest until 16th September 2018
Take part in the #SwitchTheRules photo contest launched by Elica and Fondazione Ermanno Casoli!
Sometimes, to find the right inspiration, you just need to change perspective!
Until 16th September 2018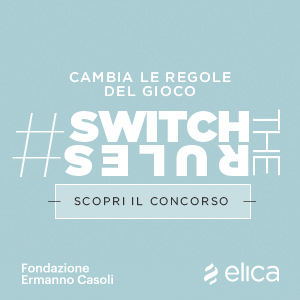 Create amazing photos able to subvert the laws of physics by playing with objects, people, space and gravity. However, the real challenge is being creative from the standpoint of vision, overturning the usual understanding of things by exploring new, hidden and original realities.
How can I participate?
Take a picture of reality while upsetting the perspective, give a name to it and share it on your Instagram profile with #SwitchTheRules and the mention to the dedicated official page @elicarianuova.
A panel composed of Cristina Casoli (President of Fondazione Ermanno Casoli), Francesco Casoli (President of Elica), Maria Claudia Clemente (architect, Studio Labics), Fabrizio Crisà (designer), Alessandro Dandini de Sylva (Artistic Director of Fondazione Malaspina), Rä Di Martino (artist) and Marcello Smarrelli (Artistic Director of Fondazione Ermanno Casoli) will select the best photos, which will be included in an exhibition curated by Alessandro Dandini de Sylva and taking place in Rome from 25th to 27th October 2018, in the rooms of Pastificio Cerere.
All photos with #SwitchTheRules and mention @elicarianuova will have to be published on their (public) Instagram profile no later than 16th September. The users whose work will be selected for the exhibition will be contacted by the organisers, for their photos to be sent via email.