HANDS – 5 tracks created by 35 Urbino ABA students with Francesca Grilli
Monday 4th December 2017, at 5 pm at Urbino's Academy of Fine Arts (ABA) will be inaugurated HANDS, the sound pièce realized by Accademia's students co-ordinated and supervised by Francesca Grilli,  created during the the working class called 'Hand' conducted by the artist last October at the Academy.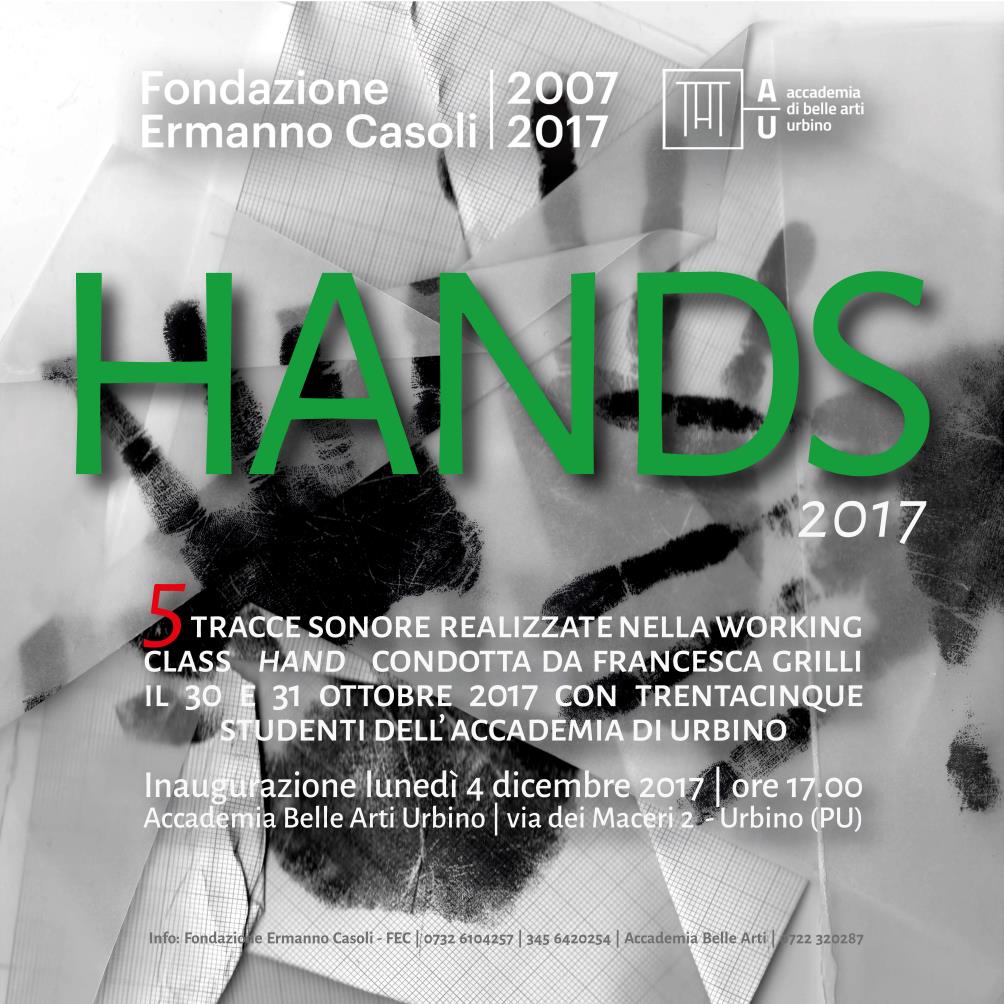 The five sound tracks forming the sound pièce content produced by the students in collaboration with the artist, will be installed in the Gallery of the Academy of Fine Arts space located in Urbino, from 4 to 15 December 2017 with the following opening hours: Monday – Friday from 10 am to 6 pm and Saturdays from 9 am to 12 am.
Dispayed participants:
Laura Affatato, Marco Almonti, Lorenzo Bartolucci, Vladimir Bertozzi, Andrea Betti, Elena Buttinelli, Chiara Cairone, Carolina Campanelli, Emanuela Caponi, Eva Rebecca Cucchi, Luana D'Alfonso, Elisa del Pero, Francesca del Nio, Emilio Giacomelli, Vito Jon Bove, Lorenzo Lembo, Marco Lombardi, Alex David Luchetti, Anita Lonzi, Domiziana Luzii, Davide Magrini, Silvia Mantellini, Amedeo Mencarini, Katherine Mercedes, Matilde Morri, Maria Grazia Mortilla, Laura Nardin, Cristina Palmisani, Valentina Sammaciccia, Laura Tiberi, Nadia Tritarelli, Hannah von Call.