Breathe Difference | Aria Nuova dal Terzo Paradiso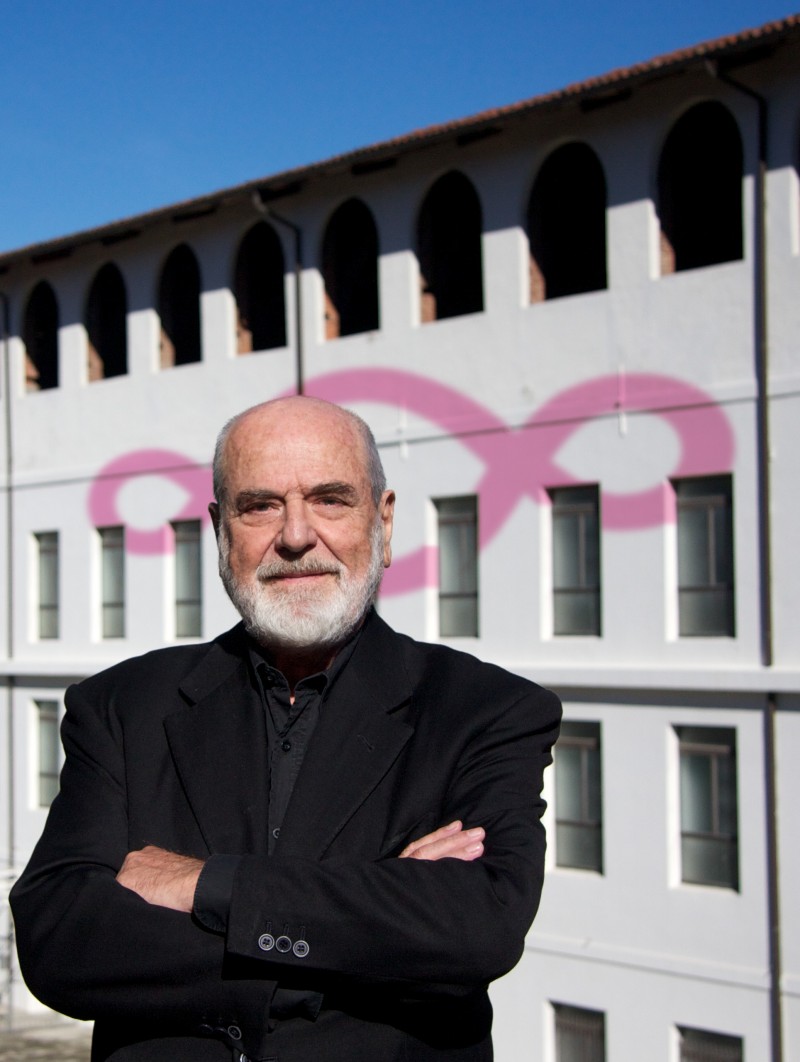 On the occasion of Milan EXPO 2015, on Thursday, June 8th at 6.30pm, at Elica Showroom of via Pontaccio 8 Milan, Elica and Fondazione Ermanno Casoli will present Breathe Difference – Aria Nuova dal Terzo Paradiso (New Air from the Third Heaven), a project by artist Michelangelo Pistoletto and the cultural association he founded, Love Difference. The project is curated by Marcello Smarrelli, FEC art director.
Michelangelo Pistoletto, who is a protagonist of the "impoverished art" movement, in 2003 wrote the "Third Heaven" manifesto and designed its symbol, the Nuovo Segno di Infinito (New Infinite Sign), which is a representation of the infinite mathematical sign. Between the two opposed circles, representations of nature and artifice, a central circle is inserted, representing the Third Heaven generative womb. This is the ideal overcoming of the conflict in which nature and artifice are opposed in the modern society. On the occasion of the exhibition, Pistoletto created a new version of Nuovo Segno di Infinito in mirroring steel, which will be hung inside Elica's showroom, creating a reflection trick. The work, as the artist explains, "represents the Third Heaven generation, coming after the first heaven, nature, and the second one, artifice. The Third Heaven open project leads science, technology, art, and culture to bring life back to the Earth".
Pistoletto's work ideally introduces the issues that will be tackled during the rich program of workshops and meetings that will follow the opening, on June 19th-27th. They will investigate on the relation of mankind, environment, and natural resource exploitation, the EXPO's core issues. The workshops activities result will be a collective artwork that visitors will be able to see from June 29th to July 4th from 10am to 10pm.
Elica's space will be turned into a highly involving venue that invites visitors to make a special journey around the topic Breathe Difference – different feeding types. Elica has always been committed to Fondazione Ermanno Casoli in conceiving and promoting initiatives that bring contemporary art to the enterprise sector. Once again, it offers its contribution as a virtuous entrepreneurial stakeholder that is an example of how resources and skills can gain value thanks to the willing to grow.
Breathe Difference – Diverse forme di nutrimento (Different feeding types) is the program title and it will last one week, turning the Showroom into an environment for reflecting on topics such as food and the relation with the other; these topics are dear to Elica, which is a global leader in the production of hoods and in the treatment of household air. Due to this shared vision, Elica decided to make its showroom available to Michelangelo Pistoletto and Love Difference.
The program:
'Aria Nuova dal Terzo Paradiso'
Opening: Thursday, June 18th, 6.30pm
Dialogue with Michelangelo Pistoletto. The artist will be chatting with Francesco Casoli and Marcello Smarrelli, and will explain the Third Heaven manifesto. Participants will be able to taste the Love Difference ice-cream, which was conceived by the artist and specifically prepared by Osteria la Villetta.
'Aria di casa'
Friday and Saturday, June 19th- 20th 10.00am/5.00pm
led by Love Difference and snark – space making
This is an experiential workshop that investigates and co-generates the common features of household life, in their different components: welcome, care, creation, and memory. Participants will be asked to observe their own house from different points of view and to share their experiences of home living with the group. This workshop will be based on the co-creation methodology and will be open to 12 participants.
'Cibo per essere'
Tuesday, June 23rd 6.00pm/9.30pm
in collaboration with Istituto Hoffman.
This is a meeting based on a study method that considers individuals as the totality of four parts: emotions, thoughts, body, and essence. Taste will be used to metaphorically anchor every experience; each part will be matched to a guided tasting. Max participants: 15 people.
'MAKE+ responsive building for smarter living'
Thursday, June 25th 6.00pm/8.30pm
In collaboration with artway of thinking, Globarch, Open Quadra, KOOBOO Managment, and Xlam Dolomiti.
For the first time in Milan, MAKE+ is presented: this is a system that, based on X-LAM technology, de-composes and re-composes the living space and the building process, to meet the current demand of a truly sustainable construction industry: ecologic, cheap, evolutionary. MAKE+ explains its formula through a graphic narration performance, along an 8 meter wall, inside Elica showroom. Limited entries, reservation required.
'Frattali e frattaglie'
Saturday, June 27th 4.30pm/6.30pm
This is an experiential workshop that was developed in collaboration with Ludosofici. The path is dedicated to children (3+ years old) and parents, max participants 25. The experience digresses on the topic of the creative evolution of the Universe and will produce an installation that will be exhibited until the project end. Limited entries, reservation required.
Download the Breathe Difference press kit here.