Francesco Arena, CANZONE (POVERA PATRIA),2012
Title: Canzone (povera patria)
Artist: Francesco Arena
Curator: Marcello Smarrelli
Event: <em>Poiesis</em> – Festival of poetry, art, music, cinema, and theater
Location: Fabriano – San Francesco Monastery Cloister
Year: 2012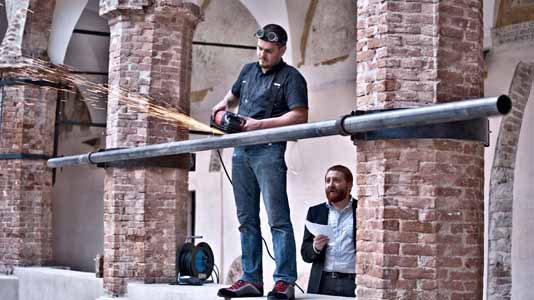 Un momento della performance Canzone (povera patria) di Francesco Arena, 2012
Canzone (povera patria) is the title of a performance that FEC commissioned to Francesco Arena, on the occasion of Poiesis – Festival of poetry, art, music, cinema, and theater fifth edition, which took place in Fabriano on May 25th-27th 2012.
In the performative action, on the artist's "order", a worker hit with a sander a metal pole that had been installed under a Middle-Age cloister arch: this created short and long sparks, which matched the Morse's alphabet point and line. In this way, the worker "wrote" the lyrics of Povera Patria, one of the most popular songs by Italian singer Franco Battiato. With this song, the author describes Italy in a very lucid and critical way, by expressing his scorn with harsh words ("Poor homeland! Squashed by power abuse of infamous people …"), yet launching a hope and redemption message ("It won't change, it won't change yes it will change, you'll see it will change").
The screeching of the action, which is very familiar to those who work in workshops, obliged spectators to cover their ears with their hands to mitigate the annoying noise.
With this performance, FEC paid tribute to work, as an essential component of people's life and of a fairer society; it was also aimed at thinking of an issue that has been shaping Fabriano's identity for years, which today has to be re-invented through new boosts and ideas.