Michelangelo Pistoletto, BREATHE DIFFERENCE – Aria Nuova dal Terzo Paradiso, 2015
Title: Breathe Difference – Aria Nuova dal Terzo Paradiso
Artist: Michelangelo Pistoletto and Love Difference
Curator: Marcello Smarrelli
Event: EXPO 2015
Location: Milan
Year: 2015
Exhibitions: Milan – Elica's Showroom, June 19th-27th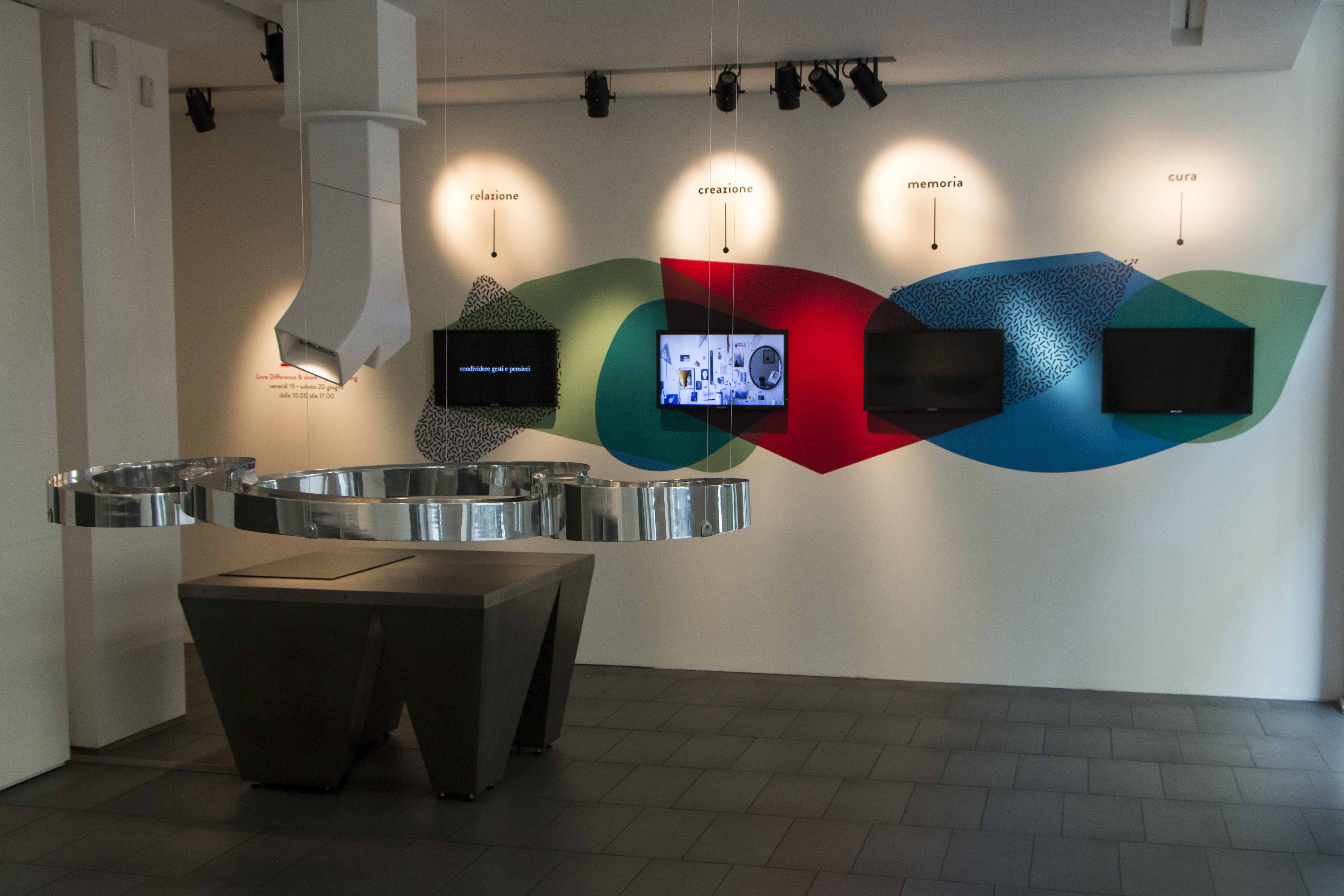 Allestimento dello Showroom Elica di Milano per Breathe Difference - Aria Nuova dal Terzo Paradiso di Michelangelo Pistoletto in occasione di Expo 2015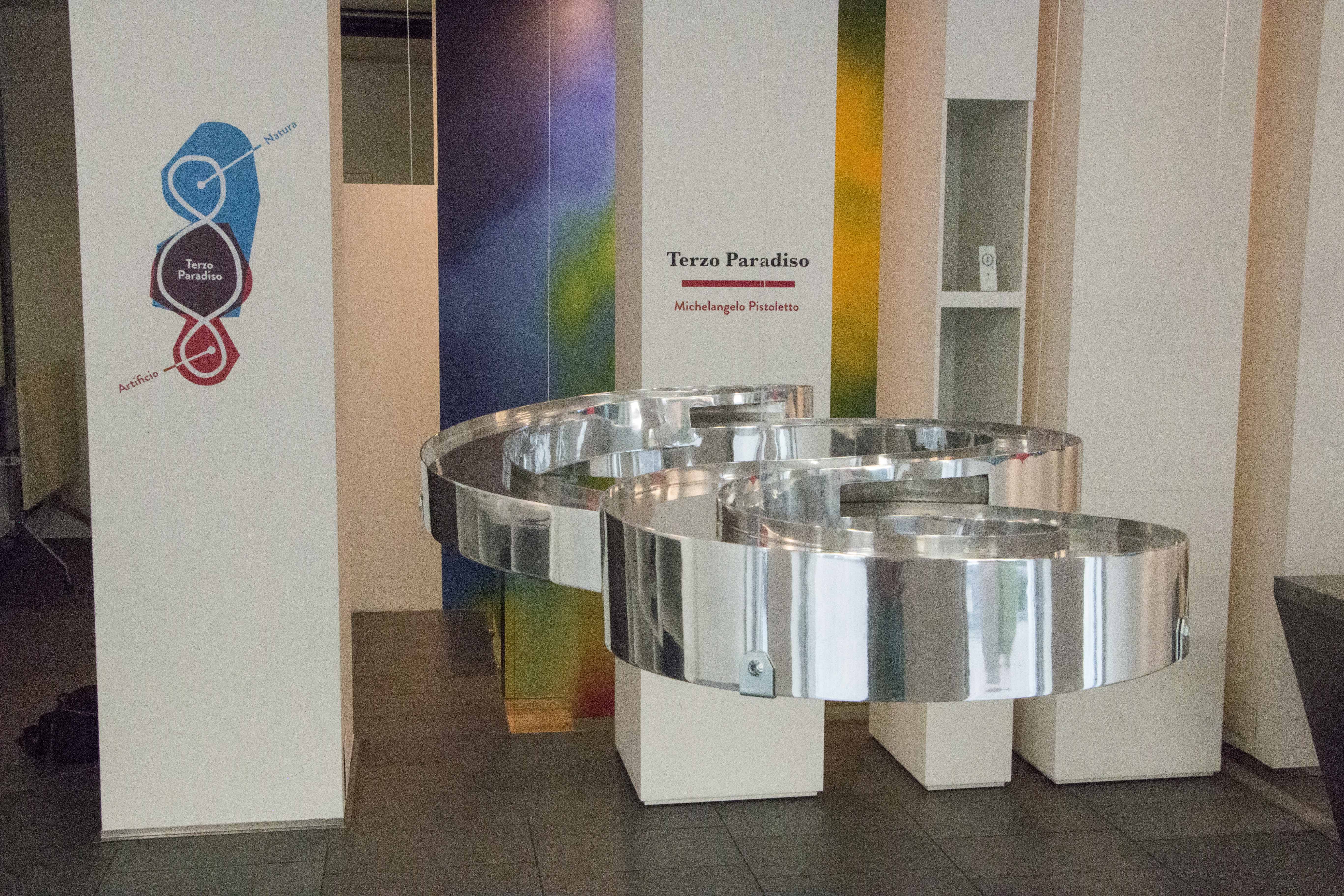 Allestimento dello Showroom Elica di Milano per Breathe Difference - Aria Nuova dal Terzo Paradiso di Michelangelo Pistoletto in occasione di Expo 2015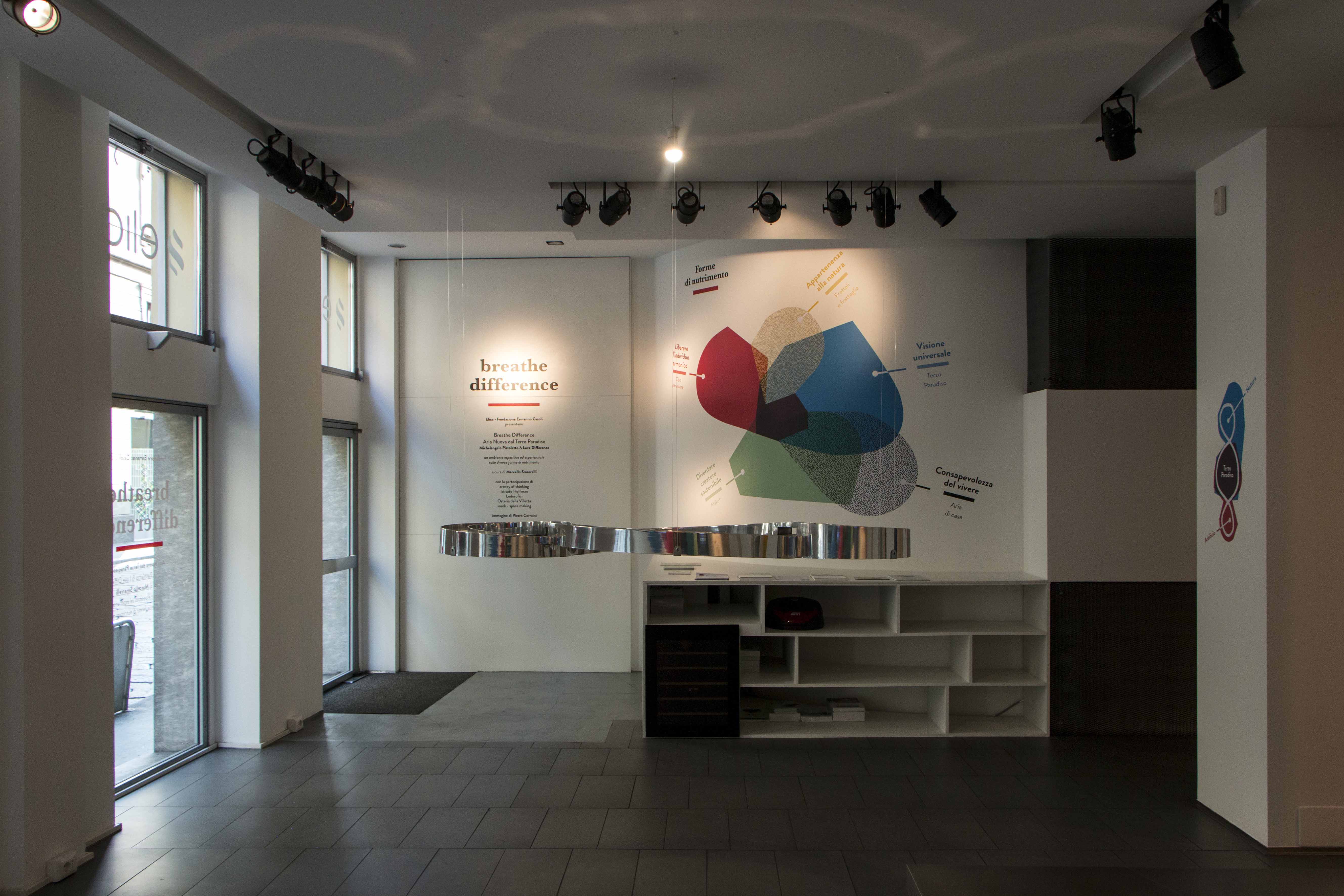 Allestimento dello Showroom Elica di Milano per Breathe Difference - Aria Nuova dal Terzo Paradiso di Michelangelo Pistoletto in occasione di Expo 2015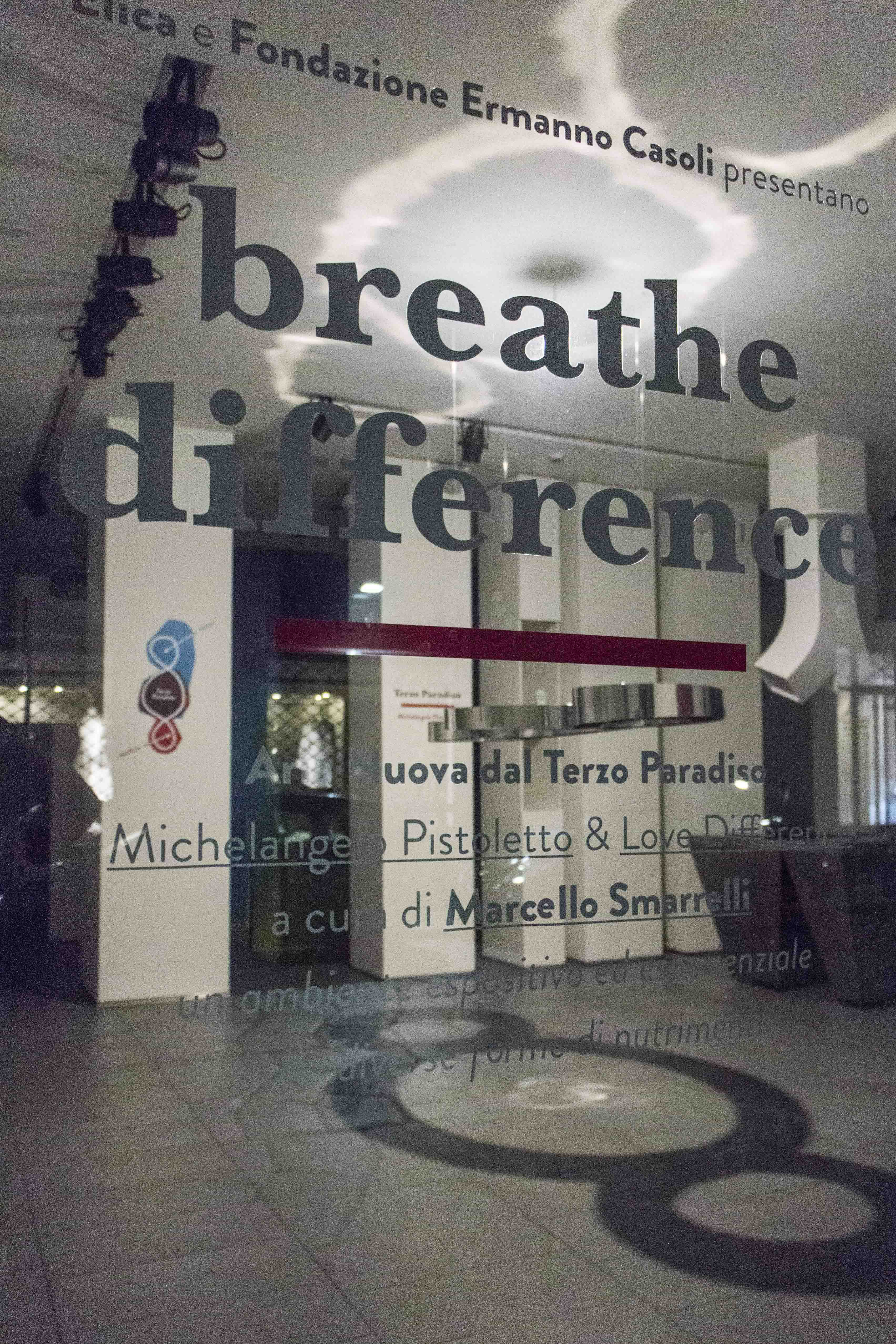 Michelangelo Pistoletto, Breathe Difference - Aria Nuova dal Terzo Paradiso, 2015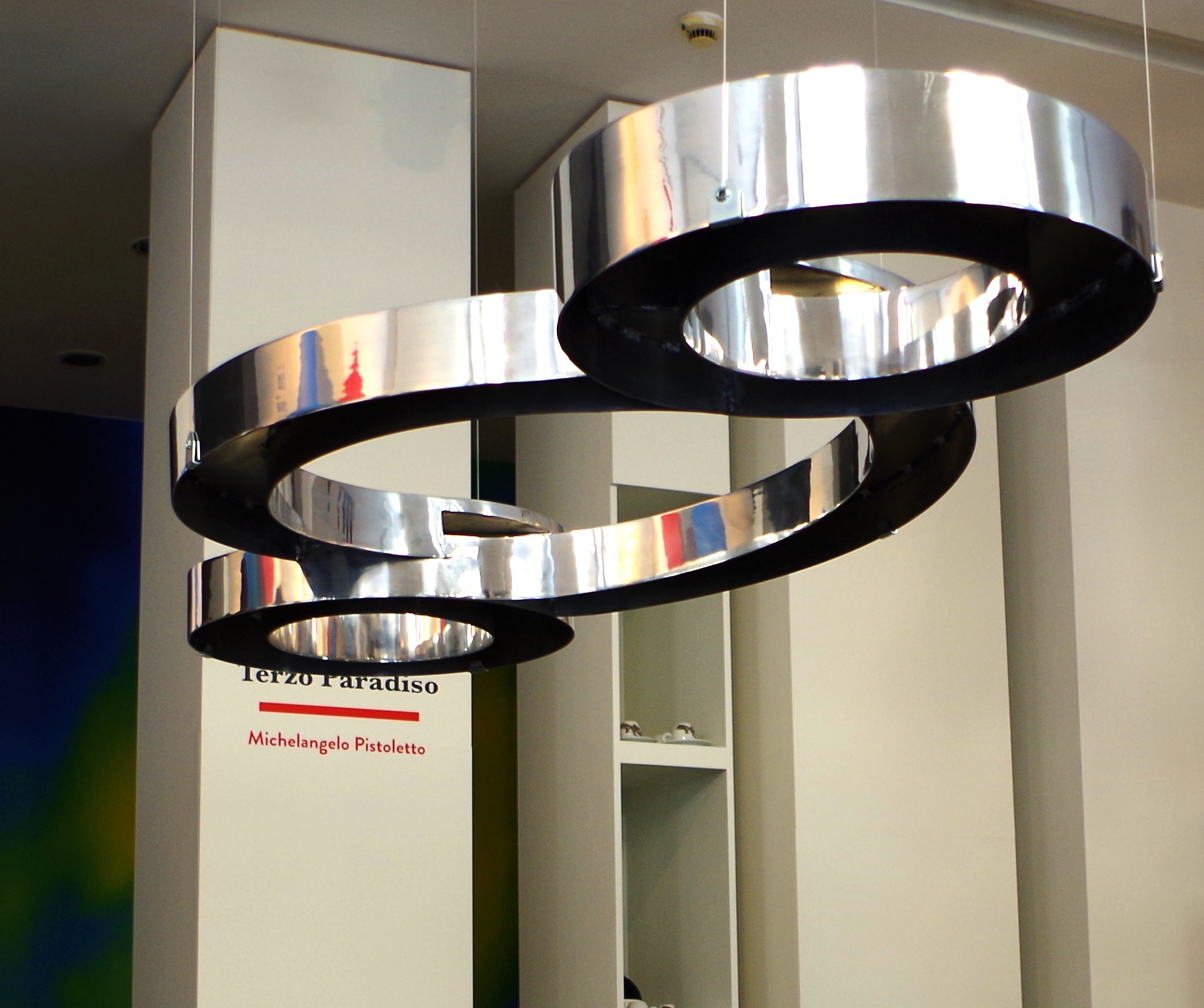 Allestimento dello Showroom Elica di Milano per Breathe Difference - Aria Nuova dal Terzo Paradiso di Michelangelo Pistoletto in occasione di Expo 2015
Breathe Difference – Aria Nuova dal Terzo Paradiso is a project by artist Michelangelo Pistoletto and the cultural association he founded, Love Difference. On the occasion of EXPO Milano 2015, Elica and FEC presented this project at their showroom in Milan.
In 2003 Pistoletto, who is a protagonist of the "impoverished art" movement, wrote the Third heaven manifesto and drew its symbol: the New Infinite Sign, which is a representation of the infinite mathematical sign. This is the ideal overcoming of the conflict in which nature and artifice are opposed in modern society. On the occasion of the exhibition, Pistoletto created a new version of Nuovo Segno di Infinito in mirroring steel, which will be hung inside Elica's showroom, creating a reflection trick. Pistoletto's artwork ideally introduced the issues that the series of workshops and meetings, under the title Breathe Difference – Different kinds of feeding, dealt with from June 19th to June 27th in the showroom. This space was turned into a real ideas lab with the purpose of investigating the relation of mankind, environment and resource exploitation, EXPO 2015 central topics.
The laboratories' activities resulted in a collective artwork, which was the result of the working days that more than xx young people from all over the world participated to, who answered a call that Love Difference launched, as they coordinated every activity.